One month of IVSA craziness!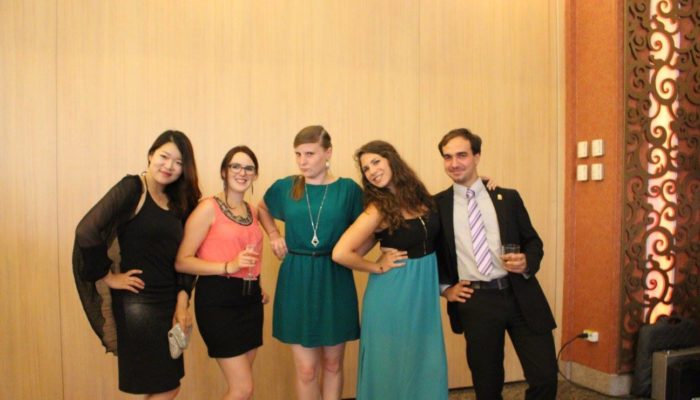 Well, how does a normal work day look like since I became IVSA MOD?
It is something like this:
I wake up, check my emails, my two Facebook accounts and Whatsapp for new messages and order them by priority -> go to school -> answer incoming Facebook and Whatsapp messages during the lectures -> Lunch break: take out my computer and update my to-do list -> study and again answer Facebook and Whatsapp -> go home, sit in front of the computer and organize the requested documents, discuss issues with the other ExCo members, talk to my secretaries, answer and send out emails again -> go out with friends and keep the phone turned off, always making sure that it is charged 🙂 -> go to sleep -> repeat from the very beginning.
But you know what the crazy thing is? During the course of just one day, I talk to people from 5-10 different countries, timezones and cultures, and we all have the same aim: to improve IVSA, to help our vet students get a better education and to provide more opportunities to experience the world.
One second I'm chatting with a potential new MO president from Pakistan and in the next one, I'm discuss the applications for our next Symposium with our lovely Taiwan OC. Don´t you just love the Internet??? I definitely do!!
It feels like I married my phone on the 1st of September and it is quite a time consuming husband. I almost start to feel bad when I have practicals and I can´t check on it for the next 2 hours. But all of that doesn´t even matter, because I love it, being in contact with so many interesting people and seeing how their ideas come true with the help from IVSA. It is so worth it!
My weekends mostly include at least one Skype meeting either with the OC, ExCo or one of my secretaries. Waking up on Saturday at 6 o´clock in the morning to speak with my friends from Taiwan may sound awful, but actually it is such a nice and convenient way to discuss problems and to come up with solutions. It also keeps the communication more personal and you have less misunderstandings compared to just texting the whole time. And come on! How awesome is it to tell your friends "I am sorry, I have to get up early because I have an important Skype meeting with Taiwan"? 😉
My position has so many different tasks that it never gets boring, whether I am working together with my team on a new EO bulletin or discussing the application of new chapter, whether helping a member organizing an international event or checking all the applications for Symposium. But I am so lucky to have such a great team of secretaries around me, who support me however they can. Hara helps me with all the Facebook groups, Charlene works hard on the EO bulletin for our new MOs, Lana actually did the whole Congress evaluation form by herself and she did such a great job, and then there is Ondrej. He took a huge weight from my shoulders by handling the VetStage blog and by always being available when I need him!
So far, I am really proud to have such dedicated people in my team and I think we can accomplish a lot during the next year.
During our first online ExCo meeting, we discussed many issues, and everyone took part in it. We have such a promising combination of different people from different backgrounds this year and I am so excited to be a part of it.
As you can see, the job as an MOD is really busy and sometimes it gets a little bit crazy, but you get so much out of it, and that is indeed worth the hard work!!!
Please, if you have any questions, just write me an email and I will try to respond as fast as possible 🙂
Ann-Katrin Autz
IVSA Member Organisation Director 2015/16
mod@ivsa.org